Caregiver Sponsorship ($50 - $200 Canadian)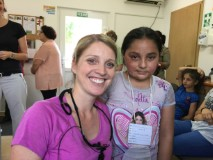 Caregiver sponsorship allows Father's House to support approved foster parents as part of our team rescuing, raising and caring for orphaned and abandoned children. These caregivers are wonderful people who have a heart to help children who often have unique challenges and histories and usually require extra attention and help. Your sponsorship provides an opportunity for the caregiver to stay home with the child without the added pressure of having to work outside of the home.
A specific caregiver will be assigned to you, and we encourage you to get to know them through email, letters, cards, gifts and updates. A caregiver sponsorship is $200, but you can partially sponsor for $50, $100 or $150. 
Caregivers needing sponsorship:
Father's House parent in South Africa

New Father's House parent in Romania
To sponsor a caregiver, Donate Here