Father's House International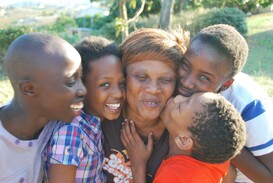 Father's House International (FHI), incorporated as CAIRD, is a Canadian-based charity making an impact in the relief of poverty by assisting orphaned and abandoned children in Romania and South Africa.
We are not your typical orphanage. We don't have a large facility with many children and care givers who work in shifts. We place our children with committed families in their own countries. They are raised by a loving mother and father. They go to school, play with neighbours and help with chores. They grow up knowing what it is like to be part of a family.  We provide educational assistance, nutritional counselling, medical support and even parenting classes in order to help these children to grow up to be strong, healthy, contributing members of their community. Our goal is to teach these children what it means to be part of a healthy family so that as adults they can break the cycles of abuse and abandonment and raise children in healthy families of their own.
If you wish to make a donation, please visit our donations page. Or you may contact the FHI office using the information below or on our contact page.